Document Restoration by SERVPRO®
9/2/2019 (Permalink)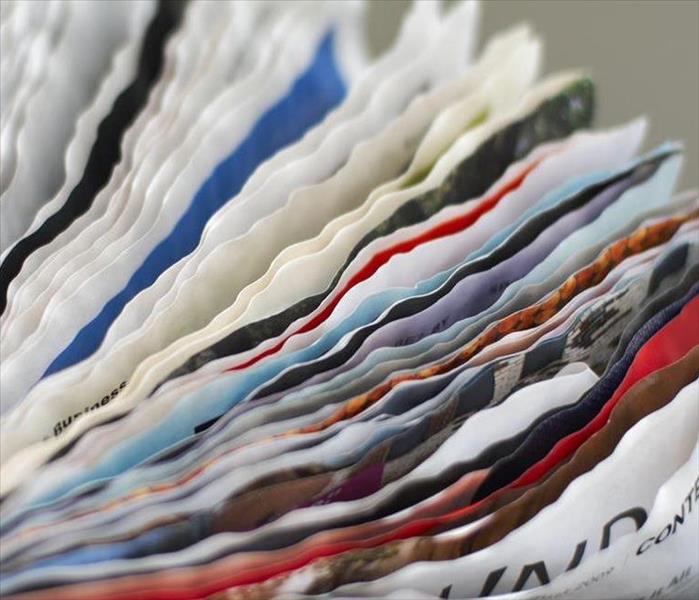 The valued documents may get damaged due to various factors like water, fire, storm, humidity, and many more. This situation is a nightmare. Don't worry; we at SERVPRO®, being the leader in the document restoration industry with years of experience in restoring the damaged documents can help you.
The process of Document Restoration is highly challenging as it requires thorough knowledge and skill and the latest technology to perform the task. Thus, we have all the necessary skills and latest state-of-art-technology that will help in recovering the damaged goods in no time and make them look like the same they were earlier.
Our Document Restoration provision follows:
Our document restoration process includes sterilization through the voguish vacuum-free drying method or gamma radiate technology. NARA and GSA authorities approve the vacuum-free drying method.
We use a digital inventory management system for digitizing the documents while doing document restoration.
The work structure is adaptable depending on the requirements of the particulars lost. Both the residential and commercial platforms are covered.
The document restoration with us is secure as it is done by professionals who are HIPPA master- certificate holders. The technicians are under 24-hour surveillance.
All the services of the restoration process are covered by SERVPRO. It includes services like drying, cleaning, disinfecting, re-jacketing, digitization, and sterilization.
Types of Documents
Paper scripts
Books or journals
Publications
Typescript or files
Catalogs
Drafts, sketches, maps, technical drawings
Photographs, negatives, films, imprints
Parchment paper
X-rays.
Cleaning and Disinfecting the Documents
The documents, if exposed to water damage, may get infected by bacteria, virus, or detrimental chemicals. Such materials, when touched by the hands, are likely to spread the infection. This is why we at SERVPRO use gamma radiation technology to clean and disinfect such documents.
Digitization of Documents
Document restoration offers the digitization of the papers. In this process, all the types of documents are converted into the digital format that can help you keep the information safe for the future. The materials once saved are protected in computers, and then no more damage can happen to the digital configuration.
Conclusion
Even a leaking pipe or humidity can ruin the essential papers and files. Thus, the professionals of SERVPRO® use the latest technology to safeguard the documents. The whole idea is to keep the records protected for long term use.